Glitches and Grains | Granular Sound Design
Posted by

Date

May 14, 2018
Glitches and Grains


Granular

Sound Design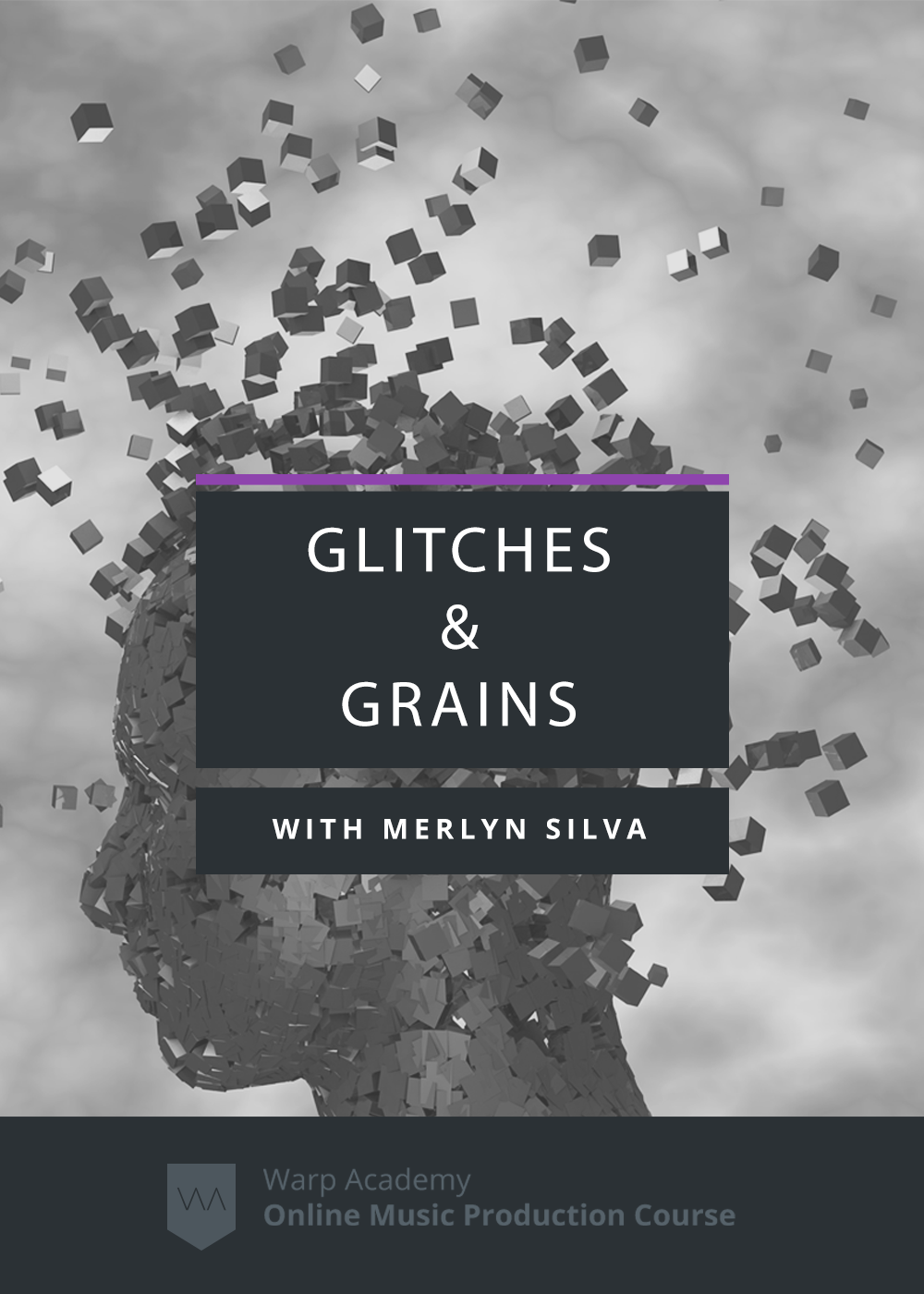 Glitches

and

Grains


Granular Sound Design
Stop getting held back by a lack of ideas and dull, boring sound design.  Discover how to infuse your tracks with that essential "WOW factor".
Mastery of granular techniques not only gives your tracks an edge, it opens up a whole new realm of sound design power moves.  With this course in your library, you'll NEVER feel stuck or uninspired again.
The next-level skills you'll learn in Glitches and Grains will equip you to break through virtually any creative roadblock and maximize your potential in the studio.
Granular effects incorporate the most powerful parts of sampling and synthesis.  Granular synthesis smashes audio into tiny grains and re-synthesizes them, resulting in truly unique, futuristic sounds. If you're looking for your golden ticket to sound design mastery, this is it!
Glitches and Grains puts an array of wicked-powerful new weapons in your sound design arsenal. This course gets super deep into Ableton Live's power features and unlocks its full potential.
Taking this course will reveal workflows and processes that few producers ever discover. Become an Ableton power user by unlocking these epic production secrets.
These crazy hacks and pro tricks will leave your fans mind-blown, FIENDING to hit that replay button.
Merlyn is, quite literally, one of the foremost experts in the field.  Not only is he an Ableton Certified Trainer, he also has impressive things that hang on the wall, like a Masters and a Postgraduate Diploma in Electronic Music Production.  No big deal.  He's beyond ninja level with this stuff.  We're talking grand-master sensei bossman here.  Read below to learn more about Merlyn.
Glitches and grains is for intermediate producers who have a good handle on the basics, and want to dial in some advanced new power skills.  
You'll need Ableton Live 9 Suite (or higher), or Live 9 standard with the Max4Live upgrade.  In the course, you'll use free Max4Live instruments like Granulator II and Buffer Shuffler.
Merlyn has done things with Live that pushed the envelope in ways it's creators never imagined.  His main project at university involved pairing a dancer with an Xbox Kinect camera to control sounds and effects with her body.  He expertly rigged the software so her movements created evolving, futuristic soundscapes, following her every movement flawlessly in real-time.  It left audiences stunned and mind-blown.
"Technology can always be bent, hacked and worked-around, to meet the needs of human musicality and creative endeavor."  - Merlyn Silva
He's a master with Max4Live, regularly schooling even the most experienced producers with his deep knowledge of devices and workflows they didn't even know existed.  His fascination with granular design grew into an obsession and spurred the release of a stream of glitched-up, psychedelic bass music and installation art pieces.
After 10 years of using Live, Merlyn became an Ableton Certified Trainer in 2016.  He's currently very in demand, splitting his time between teaching composition and production at the Royal Academy of Music in Denmark, performing and releasing spacey electronica, and teaching Max4Live and advanced sound design here at Warp Academy.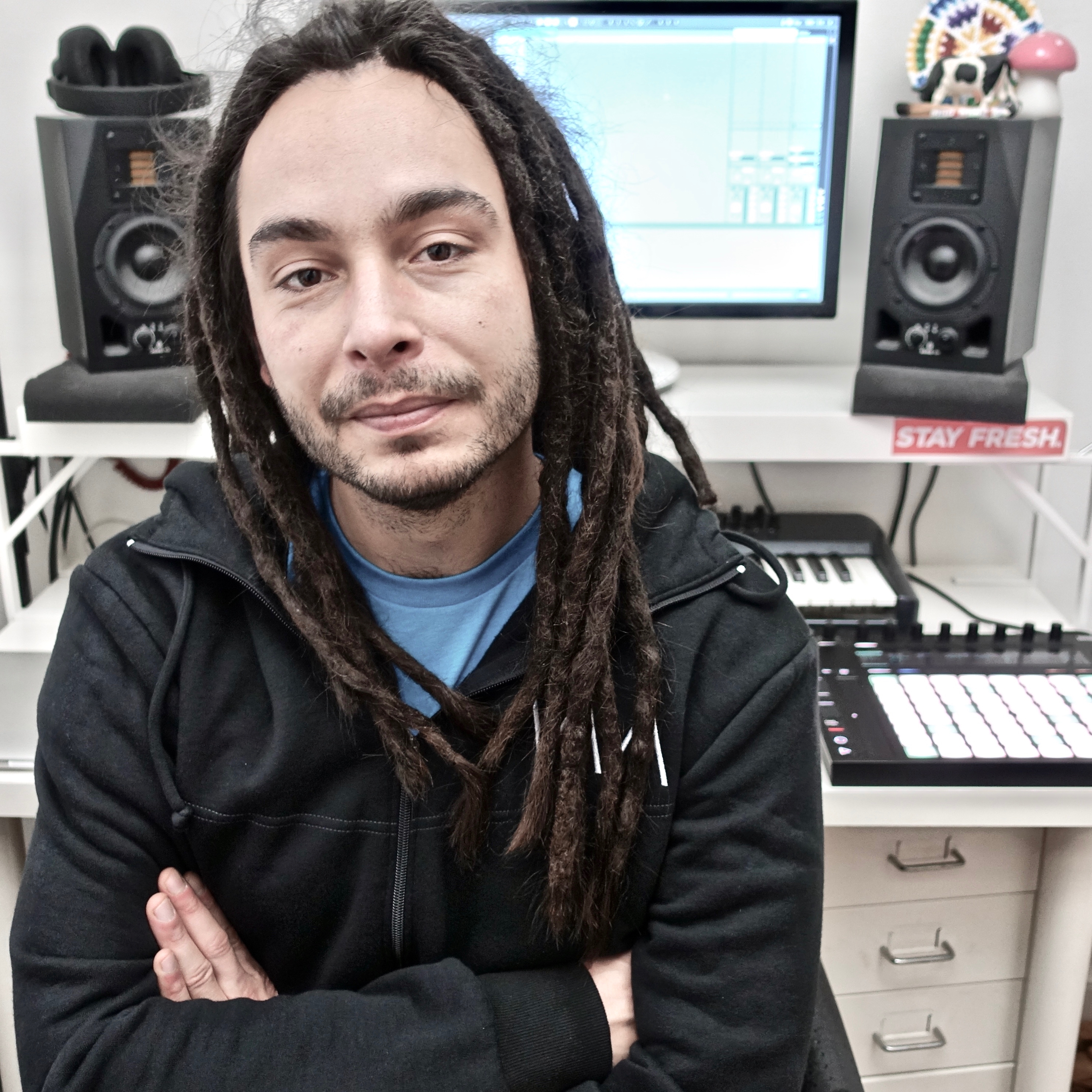 100% Guaranteed -

60 Days
Our rock solid guarantee makes sure you're completely happy. If you're not absolutely thrilled with Darkside Funk, refund or exchange this sound bank for up to 60 full days. Try it out, you have nothing to lose!

Over 2.5 Hours of In-Depth Lessons
Glitches and Grains is packed with hacks, pro-tips, and power workflows.  Get ready for tons of BIG "aha" moments and things you never knew Live could do.
Learn in bite-sized chunks, with videos that are about 5 minutes each.
You get 15 Ableton Live Project Files to follow along with and start mastering granular synthesis.  You can reverse engineer, deconstruct and learn from what Merlyn does in the course.
Learn by doing and get hands-on with these super-useful projects.  Get under the hood and discover exactly how a professional gets his results.

Connect with Other Producers
We've set up a special Facebook Group, called Nexus, where you can connect with other producers, receive & offer feedback on your songs, collaborate, learn from each other, & get first dibbs on all our upcoming tutorials, courses & soundbanks. Booya. See ya there!
Course Preview: #1

Course Preview: #2

Course Preview: #3
What People Are Saying About


Glitches

And

Grains...
Michal Palzewicz

"Any producer would benefit tremendously from this course, but as a classically trained musician, who is interested in blending together electronic and acoustic music, this course was a wonderful and unexpected surprise. I felt completely at home here. The course is a different and delightfully fresh take on sound design."

Nicholas Chase

"Merlyn is easy going, easy to understand, and grasps what a would-be Ableton-Ninja wants to know. He gets under the hood and focuses on results, not on technique, and even offers great advice about managing studio work time. I'd easily take more courses from Merlyn!"

Huxlous Aldey

"Merlyn is clearly quite obsessed with deep sound manipulation.  More importantly, however, he has the ability to present his ideas and techniques clearly and concisely. There definitely is no limit to where you can end up when diving into sound design, but Merlyn has laid out some very cool tricks and suggested some excellent habits for dealing with your sound design projects."
Here's Exactly

What You Get.

2.5 Hours of In-depth Videos

15 Ableton Live Project Files to Follow Along

Who you learn from matters. Learn from an Ableton Certified Trainer. 

100% Guaranteed -

60 Days
Our rock solid guarantee makes sure you're completely happy. If you're not absolutely thrilled with Darkside Funk, refund or exchange this sound bank for up to 60 full days. Try it out, you have nothing to lose!

Frequently Asked

Questions
If you decide the course isn't for you, we provide a full 60-day money-back guarantee; what are you waiting for!
Your course will work on any device using a modern browser. Our videos and site are designed with mobile in mind. Watch and learn on the go from anywhere.
Your course will never expire. Lifetime access ensures you can watch at your own pace, on your own time with no rush.


Our support team is here to answer any questions you have. Just hit us up and we'll get back to you.
Monday - Friday: 9 am PST - 5 pm PST