Ableton Live 10 Jumpstart
Posted by

Date

June 21, 2018
Ableton Live 10 Jumpstart

Learn Live 10 in Just 10 Hours!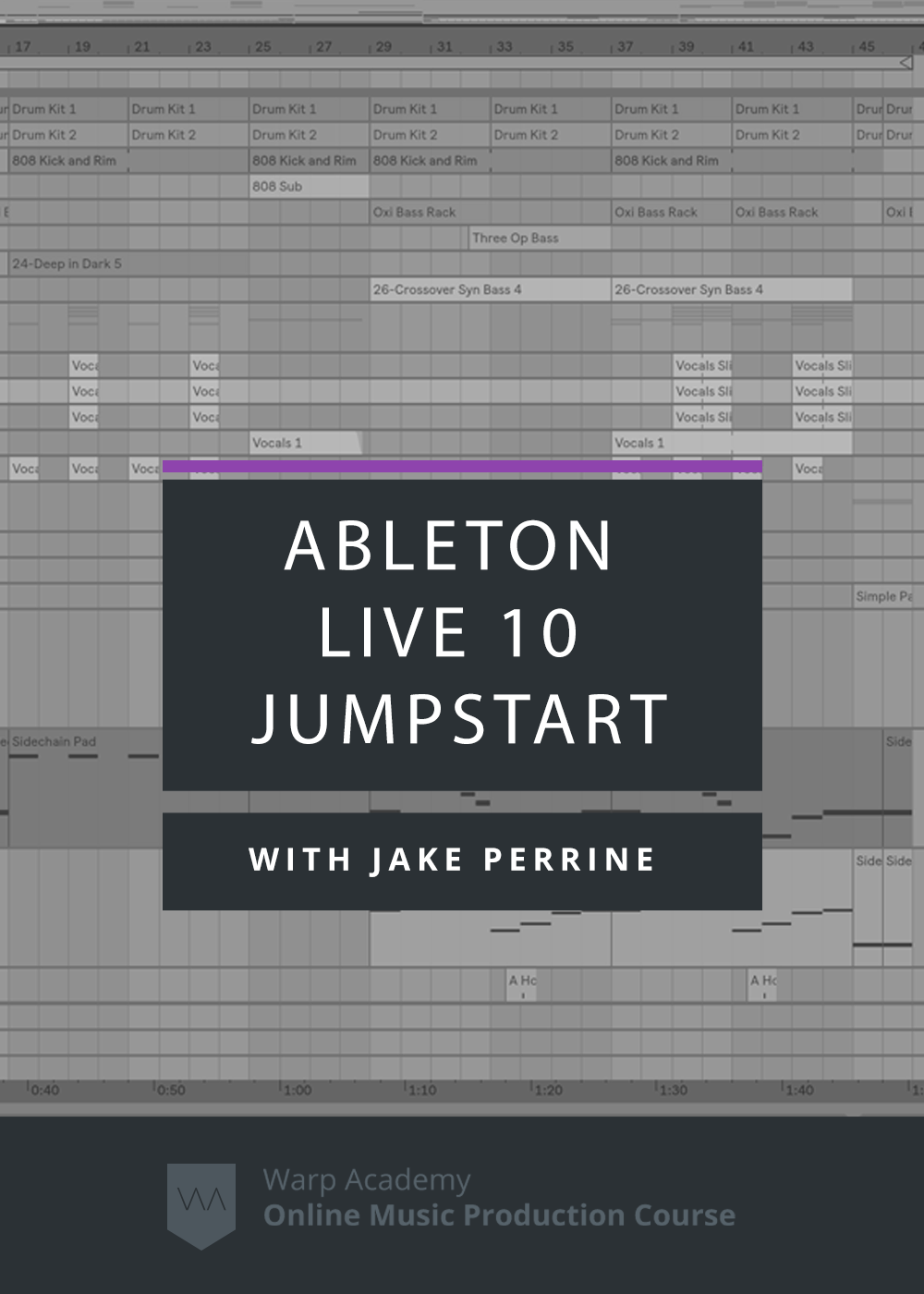 Ableton Live 10


Jumpstart
Ableton Live 10 Jumpstart is our foundational course for Live.  It's designed specifically to set you up right from the beginning.  It's what everything is built on and it positions you to be the best producer you can possibly be.  
Whether you're totally new to Ableton Live, or upgrading from an older version, it can be slow and frustrating to learn the program.  You just want to make good music right?
Wouldn't it be nice to get the sounds you hear in your head into the computer with no fussing about?  Who wants to spend weeks of precious studio time deciphering a manual or suffering through hundreds of random Youtube tutorials trying to make sense of it all?  
Not us!  That's why we made Ableton Live 10 Jumpstart.  We believe that making music should be fast, easy and enjoyable.  
Why

Ableton

Live 10

Jumpstart?
Learn EVERY Feature of the Core Program
In Ableton Live 10 Jumpstart you'll learn every feature of the core program while making a song from start to finish.  Jumpstart is the ULTIMATE introduction to Live, with over 10 hours of video broken into bite-sized lessons, each around 5 minutes long.
Jake covers the entire interface of Live while keeping you engaged and immediately showing you how to use the tools he teaches.  You'll also know straight up that you've learned the ABSOLUTE BEST workflows and the 100% right way of doing things. No bad habits 'round here.
With this course in your library, it'll be all smooth sailing in the studio. We promise you'll spend more time actually MAKING music, and less time trying to figure out how.
Isn't it About Time to GET SERIOUS?
Isn't it time to FULLY devote yourself and get serious about mastering Ableton Live 10?  If you want to make the best investment possible in YOURSELF as a producer, Jumpstart will give you the confidence and skills you've been looking to build.  Guaranteed. We've got the track record to prove it. Just take a look at the reviews below from other producers just like you.
Time is Precious
In our busy world, studio time is precious. Producers who can write music faster and earlier in their careers are the ones who break out and rise to the top.
The pros know that investing in efficiency and building their skills the right way, from day 1, is what counts. Imagine if you could learn new techniques that made you 10% more effective in the studio? What if you picked up a fresh workflow that saved you a couple hours a week?
Better Habits Give You an EDGE
There's a whole book on this called The Compound Effect. Prolific producers aren't "gifted"; they're no different from you. What sets them apart is their approach and their HABITS. One of these habits is stacking up better ways of doing things that each make an incremental difference. When you add them all up, it makes a huge impact over time.
Knowing your tools at a deep level is what sets pros apart from dabblers and gives them the EDGE. We've been teaching Jumpstart for over 4 years now in Live 9. We know, based on the track record of the producers who've taken it, that it works. Join us on the course. See ya there!
The Most COMPLETE Course on Live 10:
This course goes through all the details, so you can LITERALLY ditch the manual and know with confidence that you won't be missing crucial info.  You'll never be blindsided watching someone else use Live and be like, "I didn't know you could do THAT?!". That'll be what other producers watching YOU will be saying.
Learn Straight from the Source:
When you're starting with a new program or upgrading versions, it's essential to learn from people who legit know it better than anyone.  As an Ableton Certified Training Center, founded and run by Ableton Certified Trainers, you're getting the straight goods from people in the know.  Ableton itself has given us their official stamp of approval because they've vetted and approved your trainer and this course.
Ableton Live 10 Jumpstart is for beginner to intermediate producers looking to learn from the ground up, or advance their skills in Live 10.  You'll need Ableton Live 10 Standard or Suite.
This course was made by a true Ableton Live pro - Jake Perrine, Warp Academy's co-founder and Lead Trainer.  He's super passionate about this insanely sweet software and is stoked to pass some of that inspiration on to you!
Jake is pretty much the ultimate combination of everything you'd want in an instructor.  He's officially certified by Ableton, he's written 3 best selling books on Ableton Live, and has taught electronic music production at Seattle's Art Institute for over 10 years.  
So not only is he extremely capable and knowledgeable on the software, but he's perfected the art of relaying this knowledge to others.  There are many advanced level producers out there, but to find someone who's also a skilled and passionate teacher is a real gem.
Jake breaks down this complex software into digestible lessons and explains super advanced topics in plain language. He'll have you operating this DAW like you were born producing music!  Check out the free course preview videos below.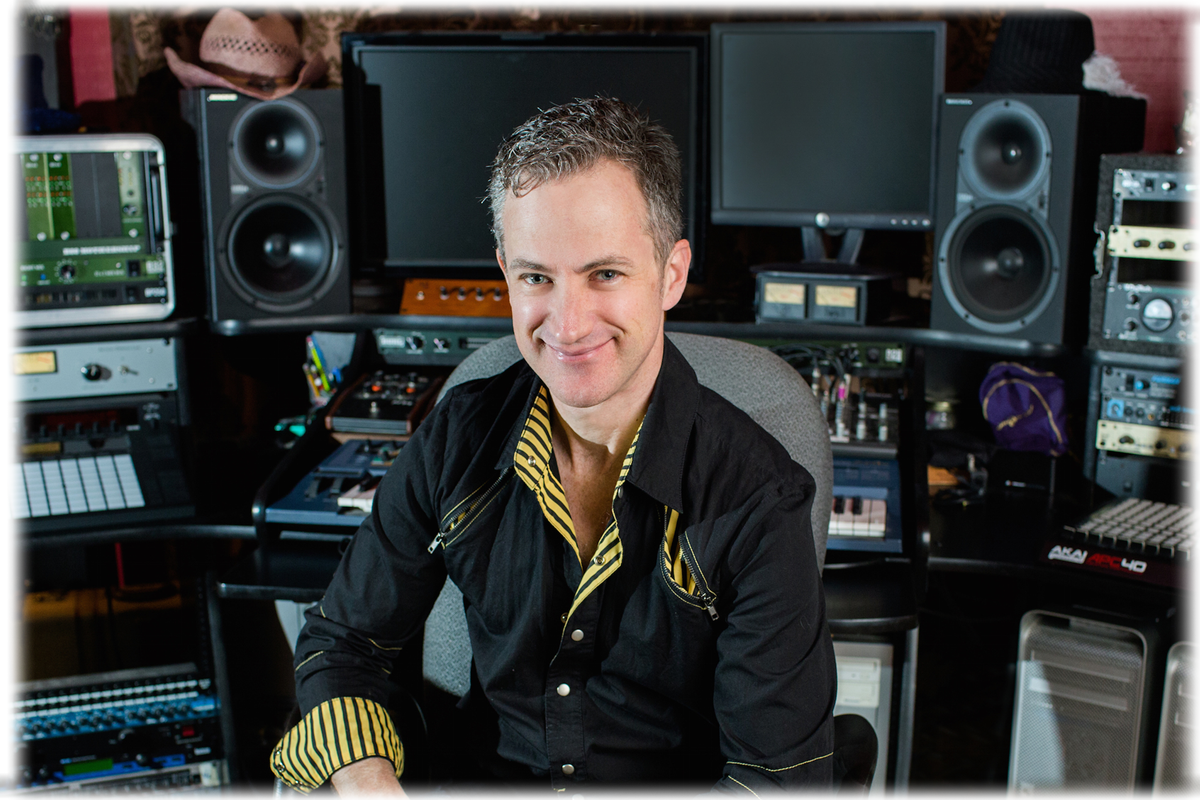 100% Guaranteed -

60 Days
Our rock solid guarantee makes sure you're completely happy. If you're not absolutely thrilled with Darkside Funk, refund or exchange this sound bank for up to 60 full days. Try it out, you have nothing to lose!

If you're brand new to Ableton Live, or just looking for a way to brush up and learn the new features of Live 10, this course is for you.  The videos are kept short and to the point, without any filler. Squeeze in a lesson on your way to work, or binge-watch the whole thing in a day.  Either way you'll come away knowing far more than all the novice producers who just learn on Youtube.
You get a massive Ableton Live Project File to follow along with and start mastering the program. You can reverse engineer, deconstruct and learn from what Jake does in the course.  There are different Live Sets matching the video lessons, so you can easily keep pace.

Connect with Other Producers
We've set up a special Facebook Group, called Nexus, where you can connect with other producers, receive & offer feedback on your songs, collaborate, learn from each other, & get first dibbs on all our upcoming tutorials, courses & soundbanks. Booya. See ya there!
Course Preview: #1

Course Preview: #2

Course Preview: #3
What People Are Saying About


Ableton

Live 10

Jumpstart...
Robert Collomb

"As to be expected, Warp Academy's new course for getting started and learning Ableton's newest version of Live is perfect. Jake Perrine is perhaps one of the world's most sovereign masters of Ableton and his course is brilliantly scripted and paced. On one side, one could regard this course as university level for its qualitative completeness. On the other hand it's delivered fresh and transparent, opening a world of possibilities to all levels of learners. The course takes you meticulously through all aspects and functionalities of Ableton live and is wisely structured to allow quick and easy consulting while working with the program. If you want to become an expert on Ableton and have the material to maintain your knowledge, you need this course!"

Michal Palzewicz

"A perfect first introduction to Ableton Live. I loved watching this course! It would save a lot of time for anyone wanting to learn Ableton. The knowledge presented here is wonderfully condensed, perfectly balanced and full of practical examples. For producers already familiar with the basic functions of the program this course will also be helpful in establishing a good workflow or as a way to brush up on most of Ableton's features. Jake's instruction is very easy to understand and straight to the point. His way of teaching is very effective, practical, fun, musical and inspiring!"

Huxlous Aldey

"This was an excellent course and time very well spent. Jake is an excellent instructor – clear, concise, and thorough. He gives real-world examples of things that we all run into regularly and offers several solutions or options to any challenge.  There were a number of "OMG!" moments where certain shortcuts or workflow improvements were demonstrated that I still hadn't known about. If you're new to Live, new to Live 10 in specific, or just want a refresher on the fundamentals, Jake is your guy and this is your course.  Good stuff guys!"

Jason Figg

"Jake does an amazing job of making the world of Ableton Live 10 easily accessible and digestible.  This course is perfect for anyone who wants to get into production and/or performance with Ableton, … [or] for intermediates to return to a beginner mindset [and] refresh the creative process. The follow along exercises make all the concepts tangible and easy to understand, and facilitates learning on a deeper level.  With each of the videos being broken into small concepts and techniques, this course is easily referenced at a later date. Jake has taught me many new tricks and concepts that I somehow missed over the years, as well as reminding me of things I'd forgotten."

John Mclaren

"I found the course to be excellent overall, the content was well produced, relevant and in depth. The pace was just right as was the length of the videos, which were never too long. I felt it gave a great understanding on how to utilise Live to its full potential and wouldn't hesitate to recommend it to a beginner or intermediate user. I particularly liked the final video from the course instructor. I will now need to browse the rest of your courses to see which I would like to do, well done!" 

Here's Exactly

What You Get.

10 Hours of In-depth Videos

Ableton Live Project File to Follow Along

Who you learn from matters. Learn from an Ableton Certified Trainer. 

100% Guaranteed -

60 Days

Our rock solid guarantee makes sure you're completely happy. If you're not absolutely thrilled with Darkside Funk, refund or exchange this sound bank for up to 60 full days. Try it out, you have nothing to lose!

Frequently Asked

Questions

If you decide the course isn't for you, we provide a full 60-day money-back guarantee; what are you waiting for!

Your course will work on any device using a modern browser. Our videos and site are designed with mobile in mind. Watch and learn on the go from anywhere.

Your course will never expire. Lifetime access ensures you can watch at your own pace, on your own time with no rush.

Our support team is here to answer any questions you have. Just hit us up and we'll get back to you.

Monday - Friday: 9 am PST - 5 pm PST