Four types of signal generation
.
Phase Plant offers four signal generators. You can add as many as you like and route them freely between each other. There are several types of utility modules to allow you even greater freedom in designing your sound such as groups, mixing, and aux options.
For each group you can add an output module to send the sound to the effects chain, or you can use a group only as a modulation source for FMing any other generator.
That's right, Phase Plant allows for frequency modulation between all types of signal generation! Watch the video below to see how it works.
Your full effect chain in the preset
.
The snapin concept allows you to use the easy-to-use effects you know and love from the Kilohearts Toolbox as building blocks within your Phase Plant preset. In true modular fashion you simply add the snapins you need in up to three lanes and mix the lanes individually.
Don't miss the "Poly" toggle at the top of each lane. It allows you to apply all the effects in a lane to each voice individually, even giving each voice unique random values from the Random modulator etc.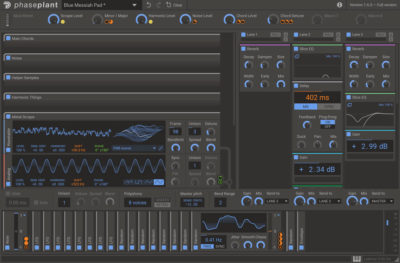 What the pros are saying
.