Note: When you buy this product, your license will be manually delivered to you via e-mail within 48 hours of purchase (during week days).  This product is non-refundable.

De-Esser Pro
.
ERA De-Esser Pro is a sophisticated, yet fast and easy to use de-essing plug-in. It offers precision-grade de-essing and customizable audio repair functionality. Based on the multi-patented accusonus algorithms, De-Esser Pro simply works and allows for efficient sibilance removal from audio recordings.
In most cases, all you'll have to do is simply tweak the large white knob until those sharp and shrill esses are gone. But ERA De-Esser PRO offers some extra controls to give you the granularity you need to really dive in and fine-tune the settings for when you're fixing up a really bad recording.
Era-D
.
ERA-D focuses on two things and does them exceptionally well. When you need deep and sophisticated denoise and dereverberation, ERA-D is the tool for you.
• Multi-patented algorithms for Denoise and Dereverberation
• Intelligent joint mode takes the natural noise and reverb counter-interaction into account for higher quality sonic results.
• Dual Channel mode that enables you to use a secondary mic to improve the audio repair quality on your primary mic.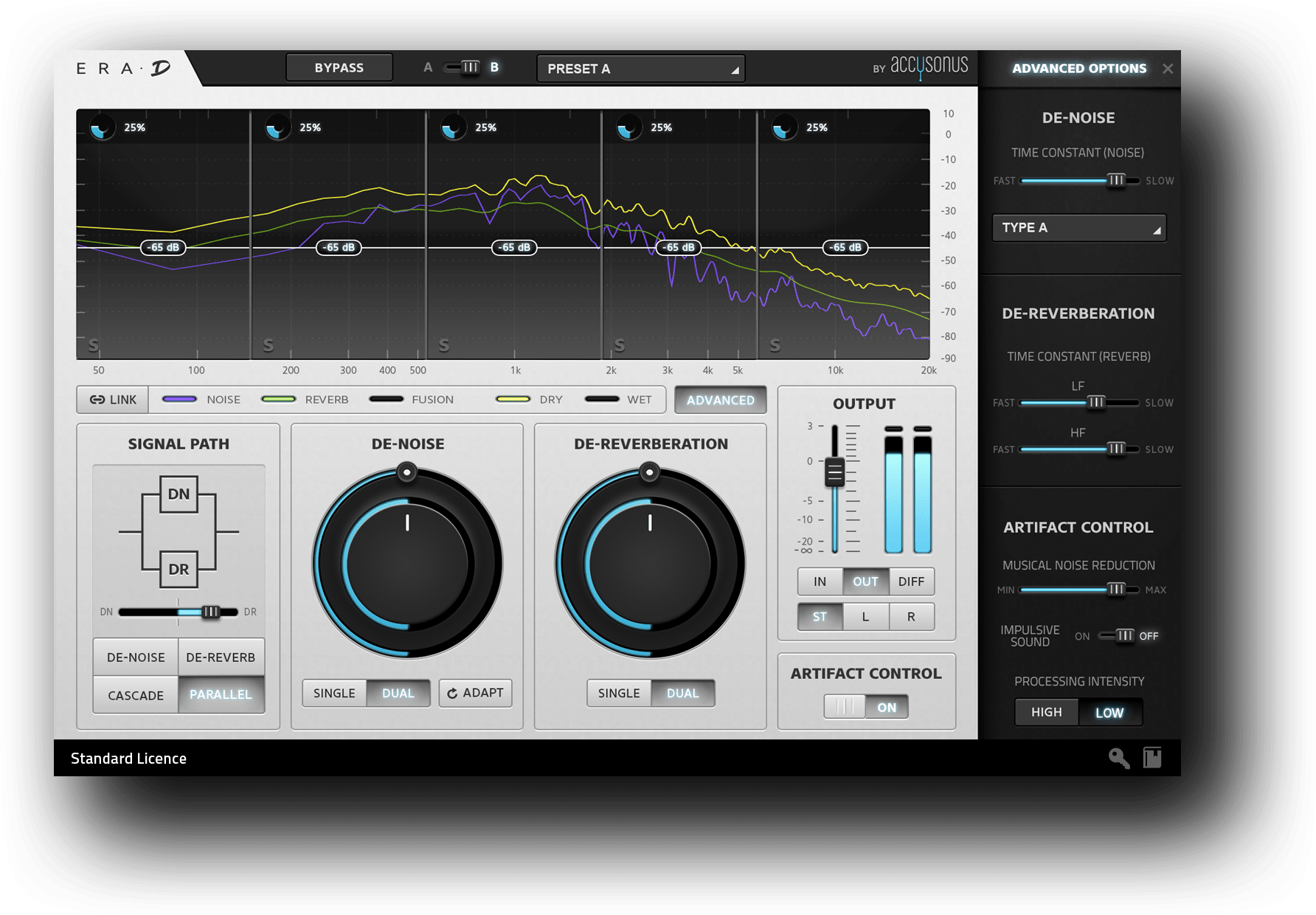 Noise Remover
.
The ERA Noise Remover is a multi-patented, single knob denoise plugin that allows you to clean up your noisy recordings faster and easier than ever.
For more in-depth noise suppression, we've added 5 buttons that allow you to focus processing on a specific part of the frequency spectrum: (i) all-frequencies, (ii) high-frequencies, (iii) low-frequencies, (iv) high & low frequencies and (v) mid frequencies.
Whether you are:
A podcaster looking for a fast and easy way to improve the audio quality of your podcast,
A videographer that is regularly required to fix audio but doesn't want to touch a parametric equalizer ever again,
A bedroom producer recording in non ideal conditions using budget recording equipment or
A post production engineer struggling to meet deadlines,
the ERA Noise Remover will help you get hassle-free high-quality results!
The ERA Noise Remover is designed to reduce not just noise, but most importantly the effort and time required to get your audio right!
Practice with the ERA Noise Remover and learn how to effectively remove background noise by using our audio demo examples.
Reverb Remover
.
Reverb is the unavoidable result of room acoustics. It can make your audio sound distant, "echoey" or hollow. Get the first ever single-knob ERA Reverb Remover to quickly reduce excessive reverb and bring your sound into focus. Add clarity, clean up your dialogue or tighten up your musical performance simply by turning a knob.
For more control over reverb suppression, we've added 5 buttons that allow you to focus processing on a specific part of the frequency spectrum: (i) all-frequencies, (ii) high-frequencies, (iii) low-frequencies, (iv) high & low frequencies and (v) mid frequencies. With a new elegant UI and an automatic gain compensation, the new ERA Reverb Remover makes a previously impossible task as simple as it gets.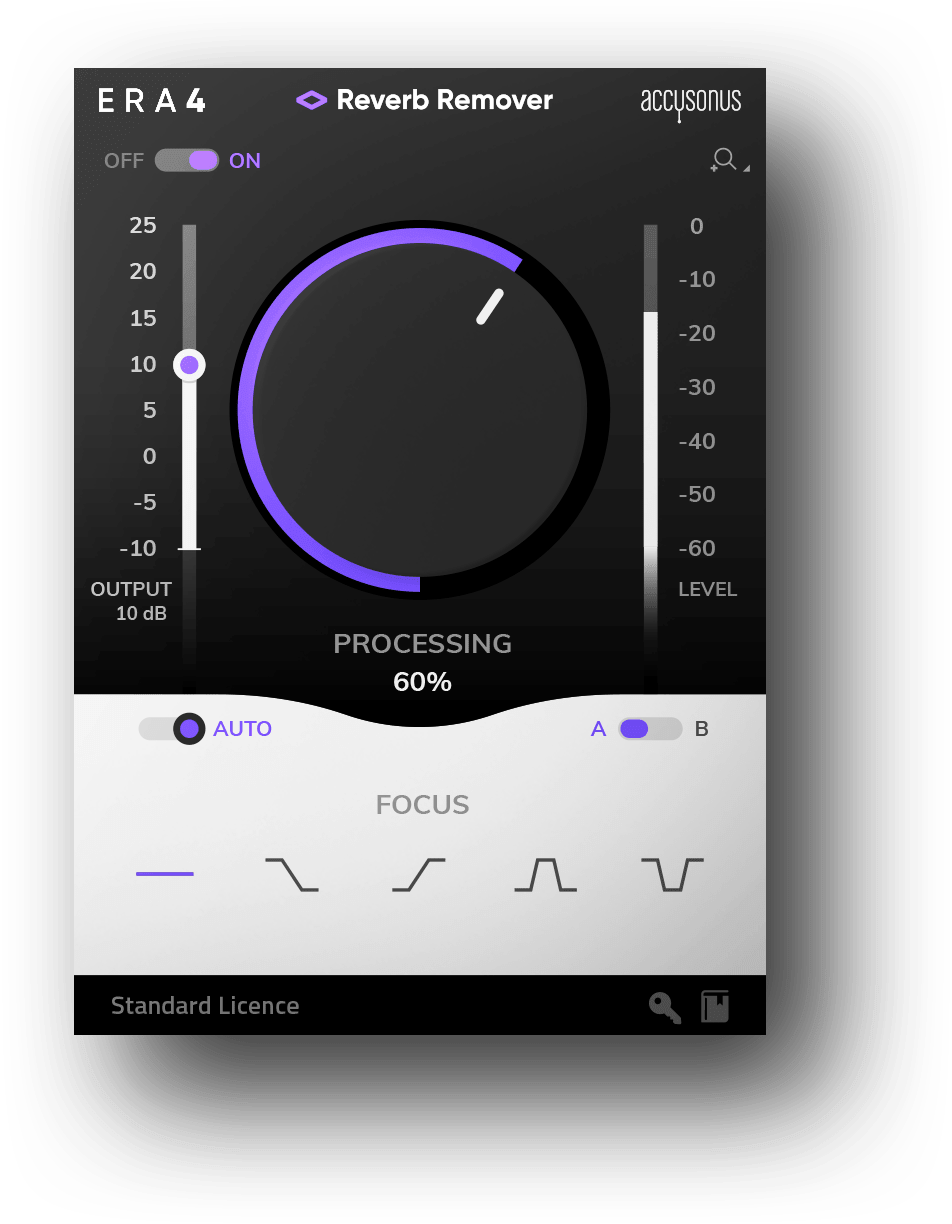 Voice Leveler
.
Instead of spending hours on manual gain adjustments, use the new ERA Voice Leveler to normalize the volume levels of speech or dialogue recordings in seconds, without leaving your DAW or NLE environment.
The ERA Voice Leveler, is a single knob tool that uses new patent-pending algorithms to automatically detect audio level problems in voice recordings and correct them in real-time.
Are you a podcaster, videographer, vlogger, dialogue editor or post production engineer? The ERA Voice Leveler will help you save time and you will be able to focus on the creative side of your work.
Apart from the "Normal" mode, the Voice Leveler also has a "Tight" mode that results in a more focused "radio" sound. This helps your dialogue tracks to stand out from the background music or effects. This is especially useful in cases such as audio and video ads, podcasts, vlogs, etc.
De-Esser
.
The ERA De-Esser is the only single-knob plugin that allows you to smooth out audio problems caused by excessive sibilance consonants (such as "s","t", "z", "ch", "j" and "sh"). Ease out sibilance and improve the quality of your audio with a single knob. The new De-Esser offers an improved UX with features such as: (i) a "Diff" button, (ii) a new elegant UI and (ii) a real-time processing display that allows you to visually monitor plosive reduction in real time.
When you need more control, the ERA De-Esser has three different modes that allow you to focus the plugin's detection and processing to the problematic regions. When you have found a setting that works for your particular sibilance issue, you can use the Intense button to get some extra processing.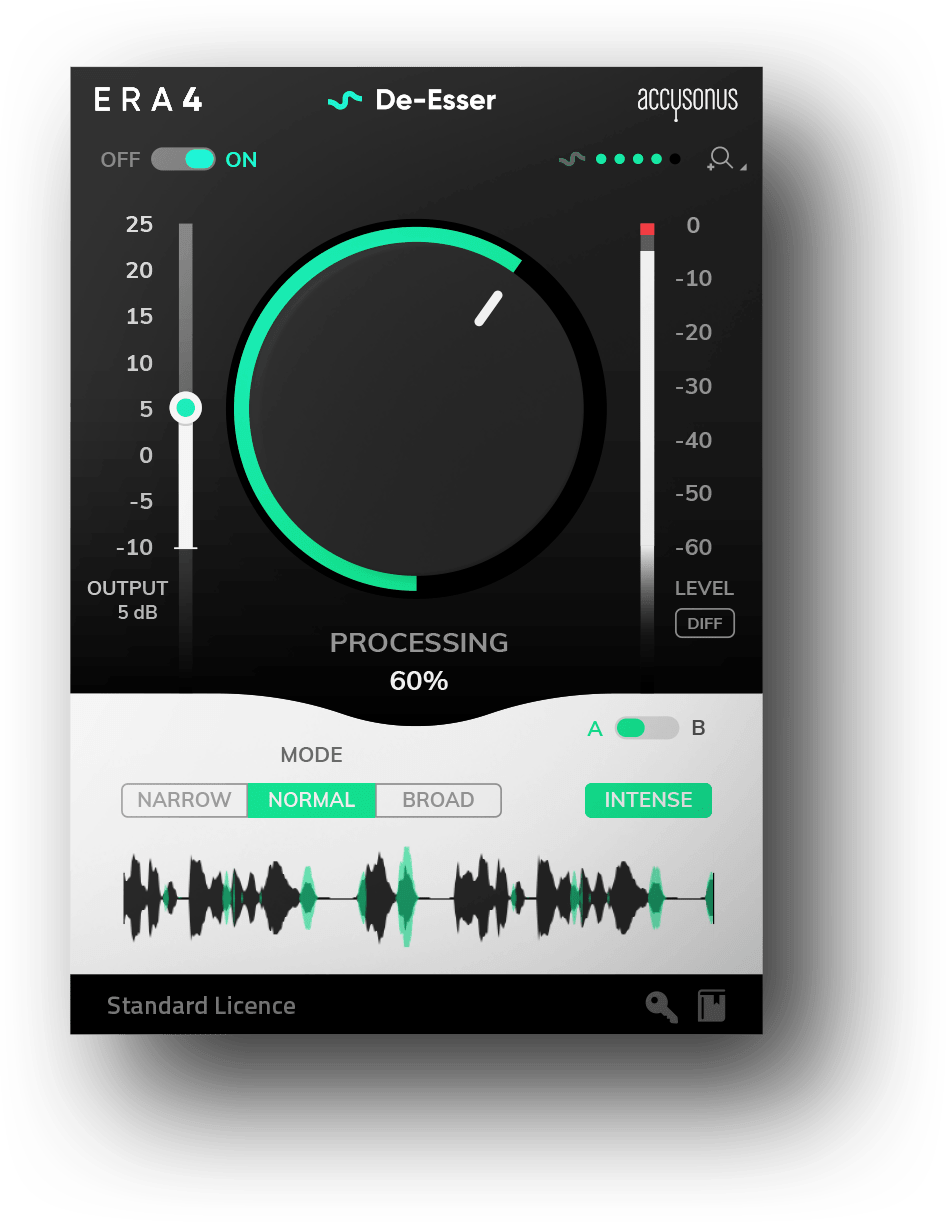 Plosive Remover
.
Plosives (or p-pops) are caused by the mechanical impact of fast-moving air on the microphone capsule during voice recordings. This usually occurs due to non-ideal microphone placement. However, fixing these distracting artifacts can be a real pain and many times you'll have to re-record. Unless, of course, you add the ERA Plosive Remover to your audio repair arsenal.
Using only one knob, the ERA Plosive Remover instantly detects and fixes unnatural plosive thumps (such as "p", "t" and "b"). Based on the multi-patented accusonus algorithms, it allows for efficient processing without compromising audio quality. Make your vocal and dialogue tracks sound great!
De-Clipper
.
It's always preferable to avoid clipping. But when you cannot re-record, the ERA De-Clipper will be your life-saver. The ERA De-Clipper restores saturated audio segments and improves the overall signal quality.
Unlike any other De-Clipping software, the ERA De-Clipper is completely automatic. It detects and repairs the over-saturated audio segments. You just have to select between Mode 1 (for standard use) and Mode 2 (for trickier cases). Repair your clipped audio in seconds with the new ERA De-Clipper.