How to Synthesize Modern 808s
Become a member
Starting at:
Access this course and every other Warp Academy course and live-stream as long as your membership is active!
Own it for life
Regular price
Just get access to this course only and access it for life!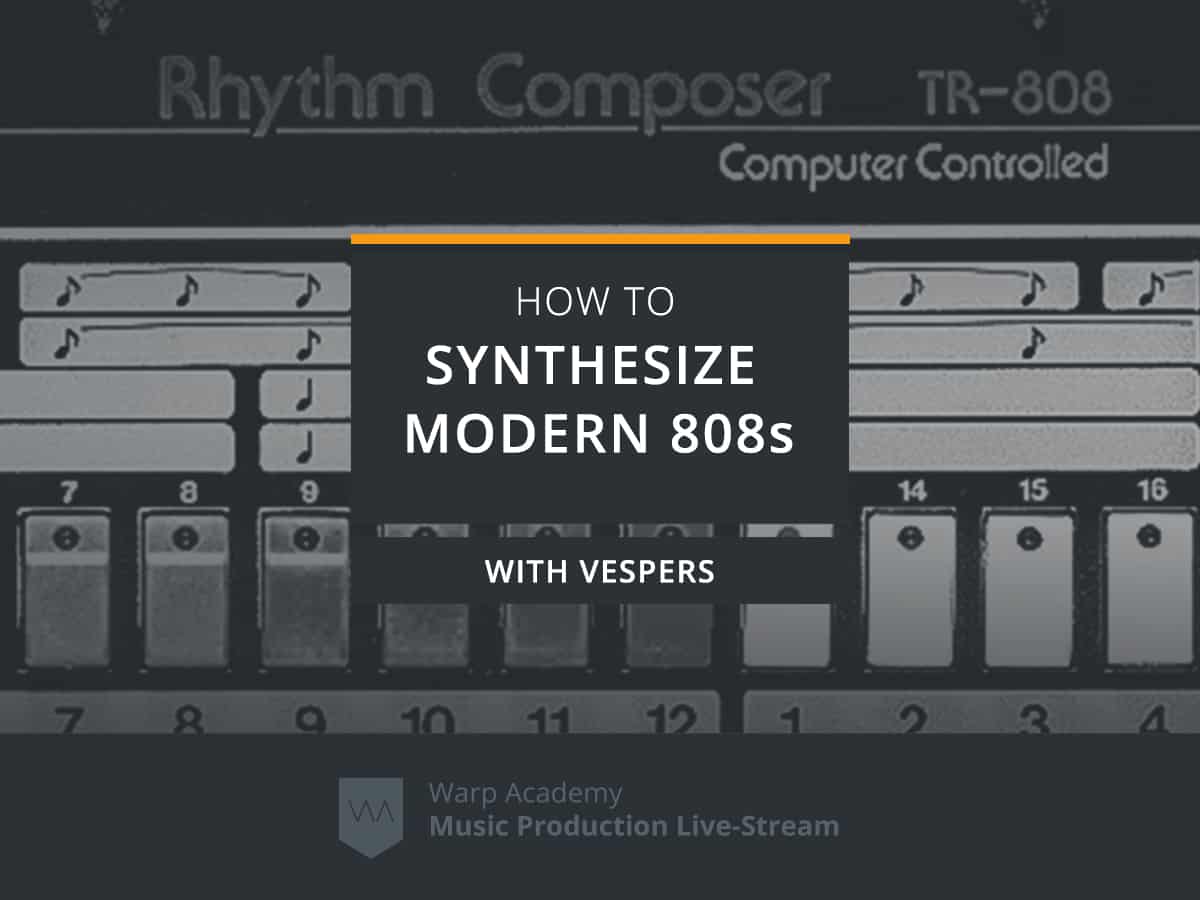 Learn to Synthesize Modern 808s
Discover the Tips & Techniques Used in Today's Trap & Hip Hop. 
We're in an era where 808s are a dominant sound in many popular genres. But 808s have been evolving. They're not the tame, subby sounds they used to be. They've gotten a lot more interesting, gritty, punchy, and aggressive.
In this live-stream we're going to look at current trends in 808 production. We'll focus on new techniques that have been pushing 808 sound design forwards and changing the game. There'll be tons of fresh ideas and inspiration that'll take your 808 production to a whole new level.
If you make any flavor of trap, hip hop, future bass, or other 808-driven genre, this is a must-see live-stream! The tips you learn here will help to give your music the edge it needs to stay current, stand out, and cut through the noise in today's music industry.
Discover 7 Cutting-Edge 808 Synthesis Techniques
Make legit sounding, punchy 808s from scratch. 
What You'll Learn
808 theory:

What makes a great 808
How 808 production has evolved

 How to make punchy 808s so you don't need a kick
How to make loud, aggressive 808s that cut through the mix
How to properly layer 808s with a kick
How to make wide 808s
How to make unique, wobbly 808s
Cutting-edge 808 creation techniques in:

 Ableton's Operator synth
Ableton's Simpler
xFer Serum synth
NI Massive
What You Get
Bonuses!  Presets, Racks, & Templates
808 presets for Ableton Operator

808 presets for Ableton Simpler

808 presets for xFer Serum

808 presets for NI Massive 

Rack templates for 808 building in Ableton Live 10
Live-Stream Schedule
Date & Time: Saturday, January 18th, 2020, 12:00 to 2:00 PM Pacific time / 3:00 – 5:00 PM Eastern time.
Convert to Your Local Time: http://www.thetimezoneconverter.com/
Note: The live-stream will be recorded and you'll have access to view it for 60 days following the event.
How it Works
This is a fully live-streamed session.
On the stream there will be chat and a live Q&A period.
Once you sign up, you'll get access to a private page in your My Library section of Warp Academy with all the info on how to access the stream.
To access this page, login at Warp Academy, click My Library, go to My Live-Streams, then click on this live-stream. You'll see all the extra info there.
Once the live-stream is complete, you'll get access to a recorded version you can watch for 60 days after to review the information.
The recording will not be available for purchase after the stream is finished, so you need to sign up in advance.
Note: This is not an online course with lifetime access to the videos. You'll have access to the recording for 60 days following the bootcamp. After that the recording is no longer available. Make sure you watch the recording within 60 days.
About Your Instructor:
Hi I'm Vespers.  My passion is helping make the complex topic of electronic music production accessible and engaging to all those who want to express their creativity through sound. My journey started with a Youtube channel where I shared free tips and tricks as video tutorials. The channel blew up and has continued to build momentum.
Building upon this early success on Youtube, I became an Ableton Certified Trainer and started making full fledged courses and production tools. That was great and all, but I wanted to amp things up so the next step was to build a collective of other all-star teachers and take things to the next level.
Assembling a team of other Ableton Certified Trainers and industry experts, I co-founded Warp Academy, one of only a few Ableton Certified Training Centers worldwide. With the help of our students and trainers, Warp Academy has risen to become one of the world's most cutting-edge schools for electronic music production, offering online courses on topics like sound design, songwriting, remixing, performing, mixing and mastering, and beyond. I'm very proud of what we've created here and what our students have accomplished.
As an educator, I've collaborated to offer music production workshops music festivals and conferences. I've also had the pleasure of forging epic partnerships with industry heavyweights such as Universal Audio, Apogee, iZotope, FabFilter, XFer Serum, Sonarworks, Tannoy, and Dynaudio to review and make tutorials on their products as well as bring educational discounts to Warp students.
As a producer, I've released music on Adapted Records, Westwood Recordings, and Pop & Lock Records. Aside from running Warp Academy, I also work as a professional sound designer, producer for hire, ghost writer, mixing and mastering engineer.
Course Features
Lectures

1

Quizzes

0

Duration

2 Hours

Skill level

All levels

Language

Ableton Live

Students

93

Assessments

Yes
You May Like