About Glitches and Grains: Granular Sound Design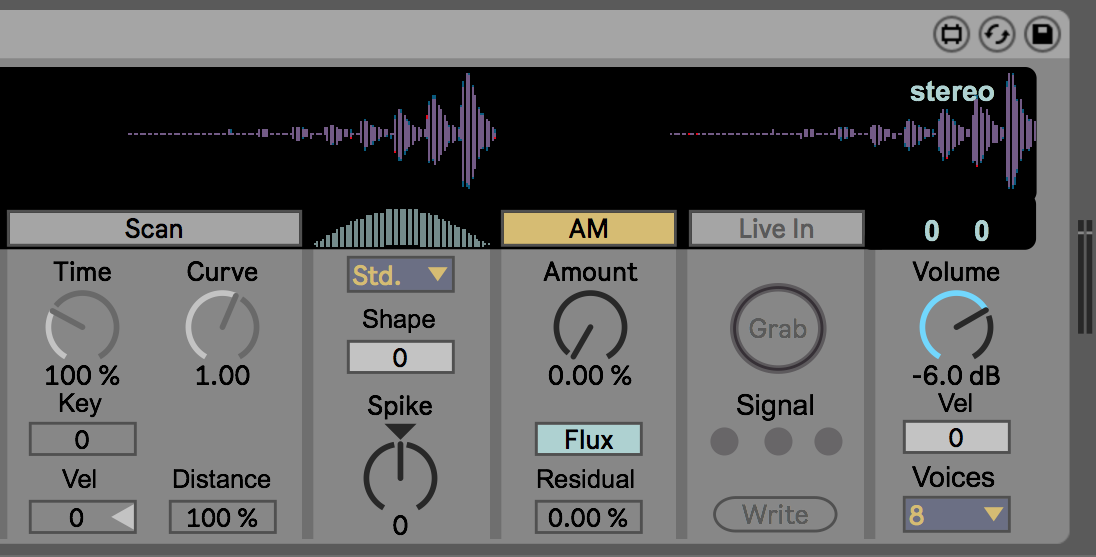 Hey everybody,
Merlyn here, and I'd like to introduce you to my first course at Warp Academy!
This adventure is called 'Glitches and Grains: Granular Sound Design' and it's packed with lessons, techniques, and tricks for you to devour. Glitch design and granular synthesis are incredibly powerful tools, but a lot of the information out there is kind of random, vague and only really tells you WHAT these techniques are, and not HOW to use them. So I wanted to make a course that was snappy, to the point and most of all, fun!
I've been exploring this side of sound design for over 10 years, and I decided to build this course to finally provide the kind of structured, measured and educational journey that I wish I had access to back when I was learning to produce music. My goal for this course is to set you up with the right approach to keep your sessions fun, full of flow, and bursting with personality and style. Glitch design can give you a massive dose of inspiration with an arsenal of fresh new techniques. Check out the trailer below.
Who is this course for?
If you have a general knowledge of Ableton Live Suite* and know your way around Subtractive Synthesis and Sampling, you should be good to go. 
Glitches and Grains is for producers who:
Have stopped learning and started repeating bad habits
Create tracks that feel stale and predictable
Have hit a wall and need inspiration
Want to revolutionize their workflow with more advanced sound design skills
This course will give you unique lessons that'll have you flexing Live's power features in a way that few producers ever learn. It'll help you push through and start creating the music of your dreams with tailored tips, tricks and hacks.
*Ableton Live 9 Suite or higher required.
Keep an eye on your email inbox, Glitches and Grains is coming soon!
Check out the full curriculum here:
Module 1
Lesson 1.1: Introduction

Lesson 1.2: Course Overview

Lesson 1.3: A Note About Audio Quality
Module 2 – Simpler and Sampler
Lesson 2.1: Introduction

Lesson 2.2: Micro Loops

Lesson 2.3: Modulating the Loop parameter

Lesson 2.4: Micro Loops Pt.2

Lesson 2.5: Time Stretching

Lesson 2.6: Granular Slicing

Lesson 2.7: Modulating the Sample Offset in Sampler

Lesson 2.8: Creating Grains with MIDI

Lesson 2.9: Wrap-Up
Module 3 – Granulator
Lesson 3.1: Introduction

Lesson 3.2: Introduction to Granulator

Lesson 3.3: Creating some Movement with a Saxophone Sample

Lesson 3.4: Creating an Interesting Riser Instrument from a Foley Sample

Lesson 3.5.1: Creating a Morphing Bass

Lesson 3.5.2: Creating a Morphing Bass Pt.2

Lesson 3.6.1: Glitchy, Grainy Drum Variations

Lesson 3.6.2: Glitchy, Grainy Drum Variations Pt.2

Lesson 3.7: Live Input

Lesson 3.8: Wrap-Up
Module 4 – Audio Effects
Lesson 4.1: Introduction

Lesson 4.2: Grain Delay Walk-Through

Lesson 4.3: Grain Delay In Action

Lesson 4.4: Beat Repeat Walk-Through

Lesson 4.5: Beat Repeat Tricks 1

Lesson 4.6: Beat Repeat Tricks 2

Lesson 4.7.1: Buffer Shuffler Walk-Through

Lesson 4.7.2: Buffer Shuffler Walk-Through Pt.2

Lesson 4.8: Buffer Shuffler In Action

Lesson 4.9: Wrap-Up
Module 5 – Advanced Sound Design
Lesson 5.1: Introduction

Lesson 5.2: Pad Synthesis

Lesson 5.3: Layered Resonance

Lesson 5.4.1: Workflow Study: Granular Bass Design 1

Lesson 5.4.2: Workflow Study: Granular Bass Design 2

Lesson 5.4.3: Workflow Study: Granular Bass Design 3

Lesson 5.4.4: Workflow Study: Granular Bass Design 4

Lesson 5.5: Keytracking and Prepared Granulator

Lesson 5.6: Sound Design with Follow Actions

Course Wrap-Up
---
Our weekly newsletter offers opportunities to get discounts, free downloads, exclusive offers, industry news, first dibs on new courses and other juicy production goodies. You can read our full privacy policy here.